Pointy Vee Cast 004 - Mr. Robot S01E03 - Debug
Deep dives into television
3 years ago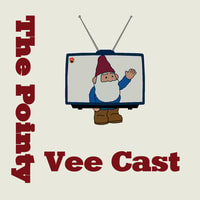 Episode Notes
Created by Sam Esmail. Season 1, Episode 3 released on July 8, 2015 (USA)
Written by Sam Esmail, Directed by Jim Mckay
Starring Rami Malek, Carly Chaikin, Portia Doubleday, Martin Wallstrom, Christian Slater, Gloria Reuben and many more.
Full Credits: https://www.imdb.com/title/tt4730002/fullcredits/
Excerpt: At first glance, Mr. Robot may seem to be your typical drama-thriller about hackers with elements of mystery, intrigue, thrills, and drama surrounding it's cast of broken characters. It is, however, first and foremost a story about the human condition as explored through Elliot. The reason why I appreciate and love the first season of Mr. Robot is that every episode gives more insight into the character of Elliot upon repeated viewings. There is an incredible level of depth in seemingly inconsequential lines of dialogue and scenes. Once you know the entirety of Elliot's story and character, the story opens up and lets the viewer take an introspective and retrospective glance at Elliot's life through his perspective.
I'm going to try and keep this episode as spoiler free as possible but I would like to go over some of the insights this episode gives us into the character of Elliot and his raison d'etre.
Episode three is titled "Debug" and rightfully so. It may appear to be a seemingly insignificant episode with not much happening besides setting up plot elements for later development as the season progresses. However, this episode gives us a greater look into the character of Elliot and the reason for his existence, as well as that of Mr. Robot's.
Full Write Up: https://pointyhatcast.com/?p=87